Plaid, Reinvented
Posted on February 19 2013
When you mention "plaids," the first thing that comes to many people's minds is tartans, menswear, and country decor. And though based in the traditional, there is room for plaid in a wide range of decorating styles. New colors, scales, and applications are modern and interesting and can help blend masculine and feminine aesthetics, making plaid an exceptional go-to pattern. 
Color and scale. The bold color and scale of the plaid on the wall helps create an overall vibe in this bedroom that is both retro and modern at same time. The strong vertical and horizontal lines created by other elements of the room help to create a clean, graphic quality overall.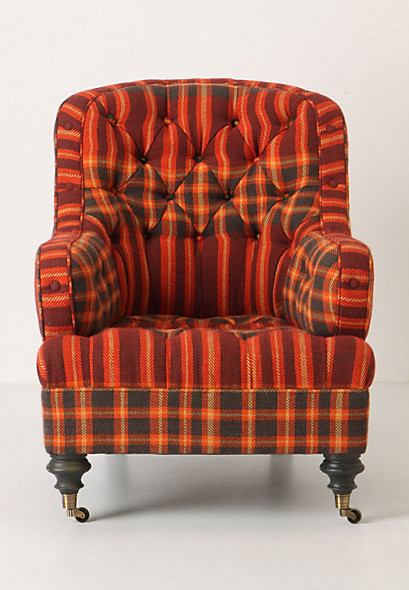 Charm. The use of plaid on this armchair by Anthropologie is anything but traditional. The pattern's large scale and more whimsical, mis-matched upholstery style create a piece that's both charming and modern.
Balance. The clean, sophisticated, plaid print in this room creates a balance to the floral draperies, creating a harmony of masculine and feminine elements.
Geometry. Here's further evidence that plaid can be combined with just about any type of pattern, from florals and stripes to this contemporary geometric design. Because the geometric wallpaper has strong vertical and horizontal lines, along with its neutral palette, it works exceptionally well with the attention-grabbing plaid on the chairs.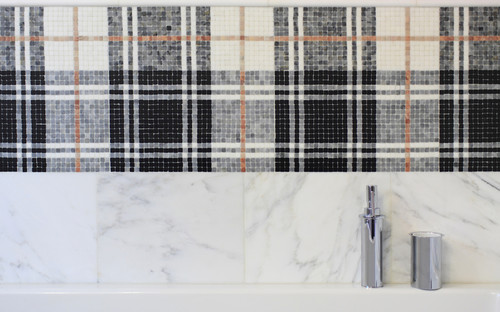 Unexpected. Lest anyone think plaid was for fabrics only, plaid is being rendered in entirely new mediums! When plaid is expressed in tile, it creates a traditional sensibility with a bit of unexpected flair.
Graphic. When a simple plaid is blown up in scale, it creates a striking graphic that is decidedly modern.